About Us
From unwavering temperature monitoring in refrigeration, freezing and incubation, to lighting, humidity and automated watering for animal laboratories, Rees Scientific provides automated environmental monitoring and access control technologies to a limitless number of applications in a wide range of industries. From Pharmaceutical to Blood Banking, Laboratory Animal Research to Biotech and Hospitals, Rees Scientific has become the standard by which other monitoring systems are judged.
Click here for more information on how Rees Scientific provides solutions within these industries.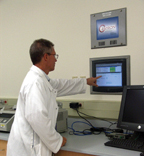 As an ISO 9001:2000 Company, Rees Scientific is constantly upgrading policies, procedures, and protocols to comply with today's highly regulated environments. Our Windows® based systems are fully validated and 21CFR11 compliant. Annual and Bi-annual Validations include all software upgrades, and an over 1000 page test protocol. Our IQ/OQ validation protocols are regarded as the industry's most extensive, and are designed to meet today's toughest standards. Automated daily printouts, alarm notification, audit trails and complete data encryption are just a few of the standard features that help you meet your AAALAC, AABB, CAP, FDA, GAMP, GxP, HACCP, Joint Commission, USP797, or other regulatory requirements.
Rees is the only known monitoring company with a dedicated sales staff of our size located within the United States offering prompt site visits and the ability to address needs promptly. Comprised of 20 direct sales representatives, our U.S. sales organization is divided into geographical regions with each group of salespeople overseen by Region Managers. Dedicated Account Managers handle specific accounts based on size and need. Some of our larger accounts with Dedicated Account Managers include Pfizer Inc., The American Red Cross, The National Institutes of Health and Beckman Coulter. In addition to working with many large clients in the Blood Banking, Pharmaceutical and Biotech sectors, Rees currently has partnerships with the DOD (Pentagon, National Naval Medical Centers, Walter Reed Army Hospitals, and VA's). We also work with the other governmental agencies including NIST, FDA, USDA, EPA, and the CDC.

To our knowledge, no other monitoring providers even come close to the 70 plus dedicated factory employed, factory trained field technicians that we have located throughout the U.S. Our fleet of 21 stocked service vehicles are dispersed across the country ready for dispatch to handle all on-site service.
Our North American operations are complimented by our presence in Europe. Native Europeans are strategically located throughout the continent offering sales and service to all of our foreign customers.
Regardless of where you are located, live 24/7/365 technical support team ensures needs are responded to promptly and closed out correctly. Our project managers, customer and technical support teams are experienced and dedicated to our customers. Together, they ensure that your system is well maintained, up-to-date and working properly.
Since 1982, Rees Scientific has set the industry standard for environmental monitoring, access control and automated watering. Today, we continue to lead the field, taking cues from our clients and their environmental challenges. Our goal remains sharply focused to ensure that your critical equipment and devices are monitored and maintained to set a standard every second of every day without exception and without fail.
Rees Scientific can offer solutions for any job, large or small. Please contact your Rees Scientific Regional Manager for information or pricing.